So, this is how we're going to do this. Every Sunday, this is your one-stop shop to get caught up on the weekend's Pac-12 action. We all know that it's all about getting the W's in this game, but style points are important. Well, if I'm doing a wrap-up and I miss out on the "W", just consider it to be my attempt at some style. I hope with a little ode to the art of rap music, rap music from my time and before, to be specific, I can offer something a little more interesting than the dry blurbs you'll find in USA Today, when it doesn't use the "late" excuse to not recap the late night West Coast action.
Besides, you have an "East Coast guy" (fine, I'm a Midwest guy) with a West Coast zip code (so, Arizona isn't on the coast at all; what are you, a cop?). Hmmm, East Coast-West Coast, you say? I'm sensing there's a certain genre of music that we can tie around that theme, but we need to go back a few years prior to the ongoing disagreement of Mr. Shakur and Mr. Wallace.


The year was 1979, and like we see in College Football, the song's position in the rankings (the charts) varied, based on the poll. While it was only #36 on US Pop Charts, it did peak at #1 in Canada and the Netherlands. To this day, it is known all over the world, and thought of as the beginning of rap music (just my opinion, facts would disprove this on a literal level). Seeing as how this is the first "Pac-Raps", I thought the 14 and a 1/2 minute diddy Rapper's Delight would be a good place to start. Each week, snippets from a single song will accompany a brief recap of each game.
Oregon 66 Nicholls State 3
You see, I'm six foot one, and I'm tons of fun
When I dress to a T,
You see, I got more clothes than Muhammad Ali
and I dress so viciously.


Oregon let the visiting Colonels from Thibodaux, Louisiana wear the dark jerseys for the 57,769 at Autzen Stadium, while the host chose to go with the white-on-white look, but that's about all they would let Nicholls State do on Saturday. The Ducks dominate their foe from the Southland Conference, as expected, from start to finish. Marcus Mariota led the way for the Ducks' record-setting 772 yard offensive day with 234 yards in the air and a passing touchdown, but he was just one of three 100-yard backs for Mark Helfich in his head coaching debut. D'Anthony Thomas was responsible for two of the four 1st quarter scores, with touchdowns of 4 and 22 yards, gaining 106 of his 118 rushing yards in the first 15 minutes of the game. The first quarter also saw Oregon corner Terrance Mitchell become the school's first victim of the new targeting rule, being ejected after a head-to-head hit on quarterback Beaux Hebert, who did not return after the hit. The Colonels did manage to muster their only 3 points of the game on Andrew Dolan's 35-yard field goal on the second play of the 2nd quarter, but there would be no more soup for them and Oregon would take a 38-3 lead into the half before letting the backups work the 2nd half.
UCLA 58 Nevada 20
So after school I take a dip in the pool,
Which is really on the wall,
I got a colour TV, so I can see
The Knicks play basketball.


Well, color TV is great, but if your provider doesn't work out a deal with the local big-time college football league, you find yourself following dots on the interwebs at the end of a long Saturday, and those dots told me that UCLA played a school from Reno, just to watch them lose. If you expected Brett Hundley to be spectacular, the dots gave you exactly what you thought they would; considering the opponent, Hundley's 274 yards and two 6-pointers were a bit pedestrian, but the 61 yards of work he did with his legs put Hundley into the superstar class. Hundley's counterpart wasn't too shabby either; Nevada's Cody Fajardo threw for 164 yards, but scored twice on the ground en route to a 106 yard rushing performance of his own. If the Bruins were mourning the departure of James Franklin, they sure didn't let the Wolf Pack in on their sorrows. James "Joystick" Jordon led the ground assault with 21 carries for 155 yards, one of six Bruins to average over 6 yards a carry in a game that they accumulated 345 yards on the ground. This game wasn't as laughable as the final score might indicate, Coach Mora's squad only led 17-13 at half, thanks to a defense that looked ill-prepared for Nevada's Pistol attack and questionable play on special teams. They were able to adjust at halftime, even make a special teams play of their own on a Kenny Orjioke punt block that Phillip Ruhl scooped and scored to run away with the 58-20 victory.
Arizona 35 Northern Arizona 0
Hear me talk about
Checkbooks, credit cards, mo' money
Than a sucker could ever spend,
But I wouldn't give a sucker or a bum from the Rucker
Not a dime 'til I made it again.


Arizona showed us something on Friday, well, they showed non-DirecTV customers that they can feast on FCS competition. The rest of us had to either be in Tucson or read about what happened in the premiere of BJ Denker starting at quarterback for a Wildcats team that Rich Rodriguez insists does not have an official starter at the position. Denker kept things close to the vest against Arizona's in-state Big Sky conference rivals, with only 13 pass attempts, but the team from Tucson got all they needed out of the ground game, even without the services of suspended back Ka'Deem Carey. Daniel Jenkins stepped up nicely for Rodriguez, going for 91 yards and a score in the second quarter; the length of the run was good for third all-time, with the two longer runs also occurring on Northern Arizona's watch. That made it 14-0, which essentially put the game out of reach, considering the 'Jacks couldn't make anything of QB Kyren Poe's perfect 7-for-7 start. Poe would end the day with 176 yards and three passes that landed in the hands of the guys with the blue jerseys. I'm not ready to give Rodriguz or DC Jeff Casteel any credit for a defensive improvement, though they held the outstanding Zach Bauman to just 71 yards on the ground, because history reminds me that the Wildcats did shutout South Carolina State of the FCS 56-0 before the FBS portion of the schedule cut through the 3-3-5 defense like tin foil. UNLV and Texas-San Antonio should present bigger challenges, a better gauge to measure the actual progress of this defense, in the coming weeks.
Utah 30 Utah State 26
I guess by now you can take a hunch
And find that I am the baby of the bunch
But that's okay, I still keep in stride,
'Cos all I'm here to do is just wiggle your behind


If it weren't for the brilliant courtroom exchange between Fred Glynne and Joe Pesci in My Cousin Vinnie, I could honestly tell you that I'd never heard so much as a mention of the word "Ute" before Keith Van Horn and Rick Majerus made them relevant one March over a decade ago. We don't need to re-hash anything about Urban Meyer and the evolution of a mid-major, especially because the premiere college football game on Fox Sports 1 in Salt Lake City was such a gem. Even without Gary Anderson leading Utah State, QB Chuckie Keeton and his Aggies put on a show. However, in the end, it was Travis Wilson that got to be the hero for one of the Pac-12's newest members. Utah got off to a fast start, with Wilson's two TD passes putting the Utes up 14-3 after the first quarter, but Keeton was determined to turn this one into a track meet. A couple of second quarter scoring strikes from Keeton to Brandon Swindall brought the Aggies to within 3 at the half, and they went up 23-17 when Keeton picked up six point on 15 of his 85 rushing yards on the day, but Nick Diaz would miss the extra point. That one point would prove costly, as Utes kicker hit a 38-yard field goal to put the home team up by 30-26, thus forcing Keeton to go to 72 yards in 11 seconds, which did not happen, and Utah walked off the field 1-0 on the year.
Washington 38 Boise State 6
I said, "By the way, baby, what's your name?"
Said, "I go by name of Lois Lane
And you could be my boyfriend, you surely can,
Just let me quit my boyfriend called Superman."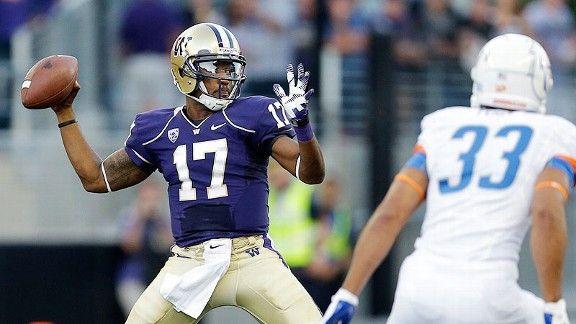 Ever since the media declared them as special after a Hook & Ladder, a halfback pass, a Statue of Liberty play, and a spontaneous-yet-cliche football player proposes to cheerleader girlfriend night in Glendale, Arizona, Boise State has gotten a lot of mileage on that reputation alone. Look, some of it carries merit; they did win that Fiesta Bowl, defeat Oregon in back-to-back seasons, and seriously show up every time they were invited to the big stage, but the substance has been reduced to sizzle since Kellen Moore left the Gem State. Even with Joe Southwick taking over Coach Chris Peterson's offense, they've maintained the reputation that they can hang with the big boys, even defeating their Week 1 opponent, Washington, in the MAACO Las Vegas Bowl last December. Steve Sarkisian and QB Keith Price were in no mood for any of it on Saturday night in Seattle. Price returned to his great 2011 self, after a rocky 2012 season, doing it mostly with his arm against the visiting Broncos on Husky Stadium green grass. He escaped when he had to, 6 carries for 25 yards, but did it mostly with his arm on a night he'd be without the services of star tight end Austin Sefarian-Jenkins. While Price was 23-of-31 for 324 yards in the air, it was running back Bishop Sankey that carried the load for Washington in a game that they only led 10-3 at the half. Sankey put the Huskies on the board from a yard out in the first quarter, then eliminated all doubt with a 23-yard scamper, his longest run of the day, which put Washington up 31-6 over the former juggernaut from the Mountain West. It might be time for the networks to find a new mid-major to worship.
USC 30 Hawaii 13
And while you're sleepin', you start to dream,
And thinkin' how you danced on the disco scene
My name appears in your mind,
Yeah, a name you know that was right on time


It wasn't long ago that some in Ohio anticipated the Kent Graham bloodlines taking over for the disgracefully exiled Terrelle Pryor, but Taylor Graham and Ohio State were too star-crossed for such a series of events to culminate and the traditional quarterback ended up playing for Norm Chow on the islands. This won't prove to be the biggest test for USC's young defense, but they fared very well, sacking Graham 7 times and catching 4 of his passes. The offense looked questionable for what is perhaps the most recognizable brand-name in the Pac-12, USC. They have two quarterbacks, a number that conventional wisdom dictates to mean you have zero quarterbacks, but Cody Kessler wasn't up to the task. With all-world receiver Marqise Lee on the field, Kessler didn't get him the ball at all in the first quarter. Max Wittek took over in the second half, as the Trojans ran away with the game in the second half against an exhausted Rainbow Warrior defense for a 30-13 victory. Lee ended the night with 8 catches for 104 yards, but was kept out of the endzone. While the two quarterbacks combined for a rather underwhelming night in the tune-up versus a "cupcake", 15-22 for 139 yards, a touchdown, and a pick, Tre Madden picked up the slack on the ground. Starting in place of the injured Silas Redd, Madden picked up 109 on 18 carries in this acceptable, yet sloppy performance off the mainland.
Auburn 31 Washington State 24
I say a can of beer that's sweeter than honey,
Like a millionaire that has no money
Like a rainy day that is not wet,
Like a gamblin' fiend that does not bet


It was an SEC school and Gus Malzahn. It was Mike Leach, with "his guy" at quarterback, but this wasn't Texas Tech, and it wasn't an Auburn team that featured Cam Newton or Nick Fairley, so it would be a bit of a mistake to attach tendencies of these coaches that we think we know to their current programs. There's a reason that Auburn no longer employs the Head Coach that was part of their 2010 National Championship, and a reason that Malzahn went to Arkansas State for a crash course in being a head coach, not just a brilliant coordinator. For Leach, the program wasn't there with Jeff Tuel at quarterback, but hope springs eternal for Connor Halliday in the 2013 season. The Cougars hung with the Tigers for four quarters, but couldn't prevent Auburn from breaking the big play on Saturday night in Alabama. Jeremiah Laufasa's short touchdown runs put Wazzu up twice in the first half, 7-0 and 21-15, but every time Leach's squad struck, Auburn struck back. After Halliday found Conor Ratliff for 7 yards, to put the Cougars up 14-8, Tre Mason returned the kickoff 100 yards to give the Tigers a 15-14 lead. After Laufasa's second scoring run, it was Corey Grant that went 75 yards on the first play from scrimmage after a touchback on the kickoff to put the home team up at the half, 25-21. Halliday threw for 323 yards, but also threw 3 picks to 1 touchdown, targeting Gabe Marks most often, 9 times for 81 yards. It's safe to say Leach's offense has improved, but is still a far cry from the days of Harrell to Crabtree, at least for now.
Eastern Washington 46 Oregon State 43
Have you ever went over a friends house to eat
And the food just ain't no good?
The macaroni's soggy, the peas are mushed,
And the chicken tastes like wood


What can you say? The Eagles of Eastern Washington and quarterback Vernon Adams came to play. The Beavers just got beat; down 29-17 at the half, they simply couldn't get scores after defensive stops. You want to talk about offensive numbers? Fine, the usual suspects for Mike Riley's squad did what they had to do to make this a game; Sean Mannion was 37 of 43 for 422 yards in the air, Storm Woods ran the ball well and found the endzone twice, and Brandin Cooks was just short of 200 receiving yards on 13 receptions, so the blame goes elsewhere. DC Mark Banker's defense just laid an egg, and the fingers ought to be pointed in his direction after Trevor Romaine's 52-yard attempt to tie the game as time ran out sailed wide right. For those expecting the Beavers to be a sleeper team in the Pac-12 North, they were right about one thing; the OSU defense was essentially asleep all day on Saturday in Corvallis.
This was Mike Riley's second loss to a Big Sky opponent in three years; Sacramento State defeated them in 2011.
Northwestern 44 Cal 30
So you try to play it off like you think you can
By saying that you're full
And then your friend says, "Mama, he's just being polite
He ain't finished, uh-uh, that's bull!"


Northwestern was ranked, hence the favorite at Memorial Stadium in Berkeley on Saturday night. In Sonny Dykes debut as Cal's Head Coach, he put his faith in freshman quarterback Jared Goff, and the gifted frosh was brilliant, even if he was cursed with some tough luck. Northwestern defensive end Collin Ellis was the beneficiary of two tipped passes that he was able to return for two Wildcat not-so-fat-guy-touchdowns, spoiling an outstanding stat line for Goff. He completed 38 of 63 passes for 445 yards in defeat; four of them resulted in scores, but unfortunately only two of them were scores for his own offense. On the other side of the ball, Pat Fitzgerald lost his starting quarterback, Kain Colter, who is 1A on the Northwestern depth chart, on the Wildcats second play from scrimmage. His 1B stepped up nicely, was satisfactory in relief, going 18 of 29 for 276 yards and a score. There was a bit of controversy in this one, as Dykes didn't conceal his dismay with Fitzgerald's defense and their abundance of injuries on the defensive side of the ball, which seemed to take the Golden Bears out of their offensive rhythm. A Vincenzo D'Amato 37-yard field goal close the gap to 37-30 with under five minutes to go, but Treyvon Green, who ran for 129 yards in place of Venric Mark on Saturday, iced the game with a 6-run to give Northwestern a 2 possession advantage inside of two minutes.
"It affected it a lot," Dykes said. "You know it was just unusual, it seemed like every time we had a first down they would have an injury. I hadn't seen that, didn't expect to see that, was disappointed that I saw that but that's the way it goes sometimes."
-Sonny Dykes (on the timeliness of N'Western's defensive injuries)
Colorado vs Colorado State
Stanford (Idle)
Arizona State (Idle)
Going on'n'n'on'n' on on'n'on
The beat don't stop until the break of dawn
A sayin' on'n'n'on'n' on on'n'on
Colorado, and 1st-year Head Coach Mike MacIntyre's staff, take on in-state rival Colorado State at Mile High Stadium at 6:00 PM Eastern on Sunday. MacIntyre's staff was able to defeat the Rams, while at San Jose State, a year ago, so that should inspire the Buffaloes and quarterback Connor Wood, desperately seeking a win in their season opener.


Speaking of San Jose State, they'll visit David Shaw's Stanford Cardinal in Palo Alto next Saturday. MacIntyre's Spartans played Stanford really well in last season's opener; Shaw would prefer that contest not be that close this year.
Like Stanford, Arizona State was idle in Week 1, but they'll open their season with Sacramento State on Thursday at Sun Devil Stadium. Todd Graham's Sun Devils generally have an easy time with FCS competition, but the Hornets have defeated Pac-12 members Oregon State and Colorado in consecutive seasons, so you never now. I'll be back with more on Arizona State this Thursday, have a safe holiday and a great week.