Despite having a conference game on the slate, Week 2 didn't offer the Pac-12 fans or the national audience much in the way of marquee match-ups out west. We did finally get to see Arizona State and Stanford, provided we weren't relying on DirecTV to give them to us, but we also had to see 4 Pac-12 teams battle with capable schools from the ranks of College Football's Championship Subdivision, which is rarely fun. San Jose State, UNLV, And Hawaii joined the party from the non-automatic-qualifying ranks, while Virginia is still technically one of the big boys, not that it made the field in Charlottesville any more level with Oregon making the cross-country trip.
Whether the teams from Larry Scott's rather large corner of the NCAA's cartel were making their debut, bouncing back from defeat, or building on a Week 1 victory, all were presented with the winnable games. Basically, everyone in the conference was a double-digit favorite(apologies to Washington State) and almost every team that took the field came away victorious (sorry Trojans). Of course, the conference couldn't go undefeated as USC hosted Washington State to open up league play. It was a weekend to go out and get; and they were all out "Gettin' It" like Too $hort told them to on his tenth album.

Washington State 10 USC 7
Quit complaining
Bout how you can't spend it cause you ain't got it
You got what it takes but not enough to get started
To open up the Pac-12 season, we had two programs that have really struggled since their most recent Pac-12 title.  For Mike Leach's Washington State program, it's been more than a decade since Jason Gesser led them to the Rose Bowl in 2002, but it hasn't been nearly as long for Los Angeles's de facto professional football team, who have been without trophy since only 2008.  That might as well be a half a century for Lane Kiffin, who has struggled through probation and otherwise underwhelming football since Pete Carroll made a mad dash for the state of Washington.  Andrew Furney's 41-yard boot with 3:03 left in the game gave Leach and the Cougars a 10-7 lead that would hold in a game that was either all about defensive play-making or offensive incompetence.  Connor Halliday was picked off twice, but totaled 215 yards in the air, a Beldsoe-like effort in comparison to the tandem of Cody Kessler and Max Wittek, who combined for 11-of-21 passing with two interceptions of their own.  The only pass that resulted in a touchdown in this one came on Damante Horton's 70-yard pick-six at the end of the first half, which tied the game at 7.

Arizona 58 UNLV 13
I hope you get the message, no it's not a test it's
Just me ridin legit, they can't arrest me or bust me
Rich Rodriguez's squad hasn't really been able to make a statement, with wins against Northern Arizona and UNLV, but they are sending the message that they can beat up on the little sister's of the poor.  On Saturday, in front of 26,950 and the tens of fans tuned into the CBS Sports Network, the Wildcats kept their foot on the gas early.  Arizona got it done in the first half with four touchdowns on the ground and two defensive touchdowns in Ka'deem Carey's return from suspension.  Carey upstaged his quarterback BJ Denker, who ran in scores from distances of 35 and 4 yards in the first quarter, by showcasing his game-breaking speed to the tune of a 58 yard score and another from 12 yards out, for a final line of 16 carries for 171 yards.  Last week's hero in the backfield, Daniel Jenkins added 17 carries for 73 yards, while Denker had 63 yards of his own.  The senior quarterback didn't need to throw the ball well, and he sure did not, completing 8-of-21 for 81 yards.  The Rebels scored twice on big plays, but this was as one-sided as the 45-6 halftime score would suggest.
Utah 70 Weber State 7
I'm still hungry, I want some more stuff
Get fat and watch my whole crew blow up
Travis Wilson and the Utes were big in their opener with Utah State, and continued to feast on their Deseret foes with good ole "behind the woodshed" beating of Weber State.  The Utah quarterback ran for 2 touchdowns and threw for another 3 to total 357 yards of total offense in a game they led 49-0 at halftime.  Lucky Radley ran for 111 on 13 carries, two of them were good for touchdowns.  Kyle Whittingham's squad will host Oregon State to kickoff their Pac-12 slate next week, but travels to Provo in two weeks to complete their All-Utah non-conference schedule.
Arizona State 55 Sacramento State 0
You should be gettin it, everything you want
Everything you dreamed of, never have to front
The Sun Devils had to wait longer than most to start their season, and a 10:30 kickoff on the Pac-12 Networks didn't exactly make for appointment viewing.  Some, like myself, braved Tempe's 106 degree heat at kickoff to take this one in at Sun Devils Stadium.  If you came to see anything from the visiting Hornets from California's state capitol, you best not have been late.  Sacramento State took the opening kickoff down the ASU 16 on a 15-play 59-yard drive, where the Hornets converted four 3rd Down plays before Jesse Aguilar's 33-yard field was blocked.  From there on out, it was Devils.  The visitors managed just more first downs the rest of the game, but did limit Arizona State on the ground.  Marion Grice led the running game with 59 yards, but CSUS (Cal State University-Sacrmento) stacked the box, so Taylor Kelly took advantage, hitting 5 wide-open receivers for touchdowns.

Stanford 34 San Jose 13
Get your kids in school, so they can get an education
Get a degree, and take a vacation
The long-awaited debut of 2103 Stanford football came just before midnight in the east on Saturday, and the Cardinal were the last team to kickoff their season under back-to-back Pac-12 Coach of the Year David Shaw.  Stanford has spent the past few seasons proving that being an established member of Academia does not mean that football goes on the back-burner in Palo Alto, and that was the case with San Jose State visiting "The Farm" on Saturday evening.  As far as the game itself was concerned, there was nothing spectacular in this convincing win.  The Cardinal held the Spartans and 2012's most accurate passer to 251 yards of total offense, while quietly dominating on both sides of the ball.  Kevin Hogan threw two touchdown passes, one to Ty Montgomery, who led all receivers with 81 yards on 4 catches.  Tyler Gaffney carried the load for the Cardinal offense, running it 20 times for 104 yards.  The defense, led by Trent Murphy, came as advertised.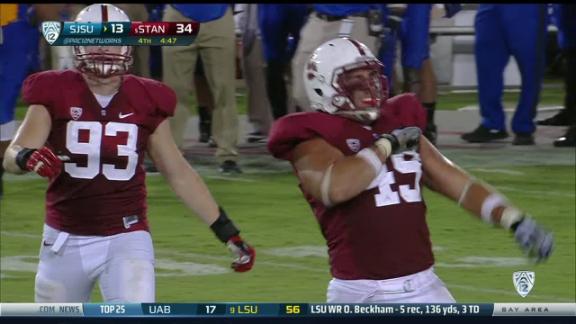 Oregon 59 Virginia 10
You see I got all my game from the streets of California
Oregon looked fantastic against inferior competition, per usual, and the stars of the show don't necessarily come from Hollwood.  Sure, D'Anthony Thomas, who picked up 124 yards on 11 carries, three that ended beyond the goal-line, is from the city of angels, and his recently departed counterpart Kenjon Barner is also from Southern California, but Mark Helfrich is finding talent outside of the traditional hot-spots.  His quarterback is from Hawaii, and contributed just 199 yards with his arm, but nearly matched Thomas with 122 yards on the ground.  Cavalier quarterback David Watford did his part to make sure this ACC-Pac12 clash wasn't competitive with three interceptions, but Khalek Shepherd injected some life into this game for Virginia with a 45-yard dash at the end of the first quarter to close the gap to 21-7.  The Cavaliers held the Ducks without a first down on consecutive possessions in the second quarter, but couldn't get anything going, so 21-7 they went to the intermission down 28-10.  The second half was 31 unanswered points from the visiting Ducks, and an introduction to the freshman Thomas Tyner, an Oregon native and the school in Eugene's next big thing.
California 37 Portland State 30
Stop looking for what you never seem to find
It ain't what you think you got to read between the lines
Just lower your expectations for Cal.  This is a development year, and Sonny Dykes seat is ice cold.  It's just time to let freshman Jared Goff get a feel for the college game, and hopefully they do enough winning, as to not scare away potential recruits.  That said, after Oregon State's Week 1 loss, everyone had to be on edge when Portland State gave the Golden Bears all they could handle.  We like to see the kid do work as much as the next guy, but he shouldn't be throwing 51 times against Portland State, even if the 485 yards are impressive in any context.  Trailing in the second half to the Vikings, as they were in the third quarter is not acceptable.  Credit needs to be offered where credit is due; DJ Adams ran for 139 yards and three scores, while Kasey Closs hauled in 5 passes for 160 yards and a score for Portland State.  Cal did a good job playing keep-away, running out the clock after a punt into the end zone with 4:41 to play.

Oregon State 33 Hawaii 13
The first thing you need to do is set your self some goals
Think positive, everything else is old
Oregon State is on a 1-game winning streak.
Sean Mannion put up another gaudy performance with 372 yards and 4 touchdowns, mostly targeting Storm Woods out of the backfield and Brandin Cooks, who each hauled in 7 passes for just under 100 yards.  After their Week 1 loss to Eastern Washington, the 38,179 in attendance at Reser Stadium may have been on edge after 30 minutes were in the books, with the game tied at 14.  Mannion hit Cooks for two scoring strikes in third quarter, and the Beavers controlled the clock, coming up just ten seconds short of doubling up the Rainbow Warriors in time of possession.
Colorado 38 Central Arkansas 24
When I was broke, I couldn't afford a meal
But now I'm now rich I can't be fake I gots to keep it real
Paul Richardson had 11 catches for 209 yards and two TDs.  This game featured 8 turnovers, but Connor Wood's two INTs essentially negate a 300 yard/2 TD game.  Take Mike MacIntyre's Buffs at face value at this point; they're 2-0 against teams they should have beaten in 2013, nothing less and nothing more.  UCA led this game at the start of the fourth quarter, but three unanswered scores put Colorado two games over .500 for the first time in ages.  Since there's little else I care to say about this ugly game, please enjoy this ugly field that the Bears of Central Arkansas call home.

UCLA, Washington IDLE
It's been a long time baby since I first got down
But it still keep making these funky sounds

The Bruins and the Huskies both took the week off after impressive Week 1 wins over Nevada and Boise State from the Mountain West.  The brand names get a little bigger for Jim Mora and Steve Sarkisian next week, with a trip to Big Ten country on the docket.  UCLA looks to get a signature win in Lincoln, taking on the #23 Cornhuskers of Nebraska.  Keith Price and Washington travel to Champagne-Urbana to take on the 2-0 Fighting Illini.  These are just two of the four quasi-Rose Bowl pairing on the schedule in Week 3, which also features an SEC team at Autzen Stadium in Eugene.  We'll see if the Pac-12
I know it's all good
And you should do the same, I told you peep the game