Some say the best thing about the BCS is that it exposed the Big Ten, who allegedly received way too much credit for their strength on the football field over the years. I've always rejected that notion, but the past couple of years has made it difficult to argue. I still think it's more of a recent thing than a historic thing, but we live in the present, and it is what it is.
It's been somewhat of a running joke, between Damien Bowman and I, that the Big Ten is hardly worth our time, here at the College Football Roundtable. For me, it's basically just satire, but I think the Big Ten shame is all business with my podcast partner. Look, there's some merit to it, which goes far beyond Ohio State losing back-to-back National Championships; top to bottom, the Big Ten really doesn't have it, whatever it may be.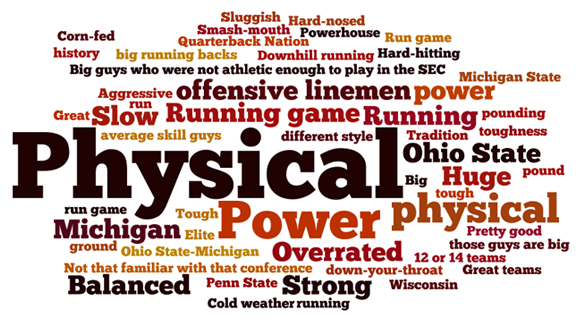 For this conference's Year-In-Review, we're going to take a sarcastic or satirical approach, to feed the trolls, if you will. I offer you a brief summary of what happened to each team, how they feed that narrative (that the conference should be relegated to the FCS), and why that assessment just might be wrong. Granted, criticism might be natural in some cases and whoever "they" are, "they" might not be wrong in saying whatever negative things they tend to say about some of these programs.
Purdue
What happened in 2013? It was a rough first year for Darrell Hazell in West Lafayette. Their lone victory came, and it didn't come easily in a matchup with in-state FCS rival Indiana State. Indiana State's only win came over a school named Quincy; I had to look this up, but the Quincy Hawks are a Division II school in Illinois that finished near the bottom of the Great Lakes Valley Conference. A week after holding off a late comeback surge from Indiana State, they lost to Notre Dame by a single touchdown, and then went on to lose to everyone except Illinois by double digits. Their signature moments included the 31-24 loss to Purdue and a 14-0 loss to Michigan State, if that tells you anything about the 2013 Boilermakers.
The Big Ten is terrible, because…I had to look up Quincy University to demonstrate how meaningless their win over Indiana State was. They didn't score a single point between October 12th and November 9th, which was only two games, but still.
That's wrong, because…it isn't Purdue's fault that Indiana State stunk. They did win that game 70-7. And as far as the near-month-long scoring drought is concerned, that was Michigan State, Ohio State, and a bye week, but still.
Illinois
What happened in 2013? They took down the really bad teams on their schedule, lost to the teams that were heavily favored, and snuck in a few surprises in games that I'd have considered a coin flip. After Cincinnati punished Purdue 42-7 in Week 1, the Illini weren't ready to let Cincinnati think they were a Big Ten-caliber team, with a 45-17 drubbing of Tommy Tuberville's Bearcats. They had a respectable showing in defeat at Soldier Field, to what we believed to be a pretty good Washington team at the time, losing 34-24. They did what they were supposed to do to Miami, the MAC conference's bottom feeder, then the Big Ten had their way with them. Tim Beckman is certainly on the hot seat in Champaign, after a week finish that included a 4-point win over hapless Purdue and a loss to a broken Northwestern team at home.
The Big Ten is terrible, because…they managed to score 32 points or more in four of their losses, and three of those were by at least 17. It speaks volumes to the level of defense they pretend to play in the Big Ten, when the second worst team in the leauge is putting up video game numbers on offense.
That's wrong, because…they might have been all that terrible after all; they might just need to work on their defense that allowed 60 points to Ohio State and 56 to Wisconsin. The only utter beating they took was 42-3 loss to Michigan State, magnified by the fact that it was not only a home game, but the Homecoming Game.
Northwestern
What happened in 2013? Northwestern came out of the gate at 4-0, with non-conference wins over the Pac-12 and ACC, and then a couple of tune-up games against the MAC and FCS. They were ranked, and deservedly so, with Ohio State coming to town for a game on national TV; Ohio State outlasted them, winning by 10 on a fluke touchdown in the end. Unfortunately, that was the first of seven straight losses the Wildcats, bitten badly by injury, suffered. The losing streak was gut-wrenching, but not as bad as it might sound. Nebraska needed a Hail Mary, and they took Michigan to three overtimes, before losing 27-19 at home in a game they had plenty of opportunities to win. They salvaged the season, to a certain extent, with a season-ending victory at Illinois.
The Big Ten is terrible, because…the Wildcats were ranked, then lost 7 consecutive games. Now, it isn't Northwestern's fault they were, perhaps, overrated. Venric Mark was hurt all year, and Kain Colter missed significant time, but a lack of depth in Evanston really cost Pat Fitzgerald a chance at a good season and a bowl game.
That's wrong, because…they didn't get to play Purdue, which easily could have been a bowl-clinching sixth win for the Cats. People, over time, forgot how close they came against Ohio State. And, it's okay to dismiss Ohio State as nothing on the national stage, but in Big Ten-speak, they remain the cream of the crop.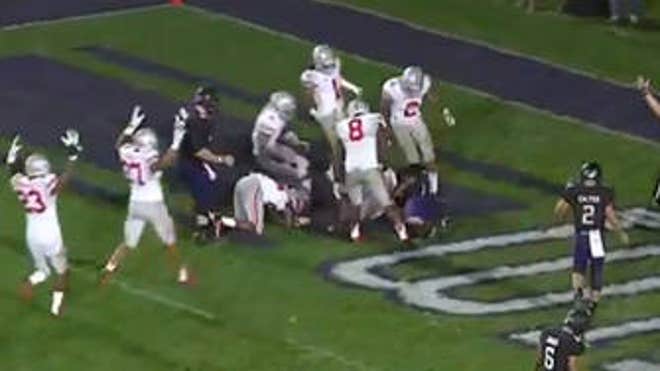 Indiana
What happened in 2013? If you don't count Michigan in this group, they were probably the best of the bad teams in the Big Ten. They, like Purdue, had a chance to tee off against Indiana State, then lost a close one to Navy, beat eventual MAC champion Bowling Green, and didn't play dead against SEC runner-up Missouri. Kevin Wilson has them playing offense; they put up 28 against Michigan State and Missouri, and couldn't quite finish drives at Ohio State, where they had one of the more impressive 28-point losses you'll ever see.
The Big Ten is terrible, because…nobody respects Bowling Green or Penn State, easily the Hoosiers best two victories of the year. What people will notice is a 51-3 loss at Wisconsin, and maybe even yielding 36 points to Purdue at home to wrap up another season without a bowl in Bloomington.
That's wrong, because…they aren't necessarily waiting for the hoops season to start in August any more. Like I said, the offense can do good things, but the defense needs to do what traditional Big Ten fans so desperately miss about this league, and that's tackling the ball carrier.
Michigan
What happened in 2013? What always happens in Ann Arbor? When Michigan beats Notre Dame, everyone is ready to hand them the crystal football, and says never mind that they almost lost to Akron and Connecticut. Then, when they poo the bed in Happy Valley, a 4OT loss, and everyone is canceling their flights from Detroit to Pasadena in January. Their only victory after a 63-47 shootout win over Indiana on October 19th was a triple OT miracle at Northwestern. The highlight of their season might have been a 1-point loss/moral victory at home against Ohio State to end the regular season.
The Big Ten is terrible, because…I asked, and got a serious answer from Lost Letterman's Jim Weber (a Michigan guy), how much are they missing Rich Rod in Ann Arbor? Brady Hoke's days are probably numbered at Michigan. I mean, this is supposed to one of the conference's banner programs!
That's wrong, because…Notre Dame! They beat #14 Notre Dame in September, the same Notre Dame that just played for a National Championship in January. The Irish came into the Big House, and they lost 41-30. LOUD NOISES!
Penn State
What happened in 2013? With no big picture to think about for the next three years, Penn State has the advantage of not carrying that burden of what happens to them in December or January. A 3-point loss to Central Florida at home looked a lot worse when it happened in September than it turned out to be. A 20-point loss at Indiana can probably be taken at face value, ditto for the loss at Minnesota, but the Michigan meltdow in quadruple overtime probably would have served at the season's best moment, if it weren't for their stunning upset at Camp Randall over Wisconsin, which ended the season for probationary Penn State.
The Big Ten is terrible, because…Jerry Sandusky! The kids! The conference advocates that behavior. It really is no joking matter, what happened under Joe Paterno's watch at Penn State, but it's time to move forward. In all seriousness, they probably gave the conference a black eye by shocking Wisconsin in Madison; the Big Ten might have been able to boast about three elite teams otherwise.
That's wrong, because…this probation is going to hit Penn State harder each year, given the scholarship reductions after surviving the intital set of transfers. Ultimately, probation is what made the departure so easy for Bill O'Brien after 2 seasons, but might lead to an upgrade with James Franklin running things now.
Minnesota
What happened in 2013? Jerry Kill spent some time in the hospital, but what else is new? The Gophers did a decent job keeping the out-of-conference schedule soft, so they could enter league play at 4-0. That meant they'd only need to win two games in conference to qualify for the post-season. After a couple of sound beatings from Iowa and Michigan, you wondered how realistic that was, but they didn't win two games. They won four, in a row, against Northwestern, Nebraska, Indiana, and Penn State. They dropped their final three contests, including the Texas Bowl, but you have to think they'd take 8-4 with a December bowl every year in those parts.
The Big Ten is terrible, because…they feast on the Mountain West, the WAC orphans, and FCS competition. In Minnesota's case, guilty as charged; the path to 4-0 went through UNLV, New Mexico State, Western Illinois, and San Jose State.
That's wrong, because…they're Minnesota. They were on the level with Syracuse in the bowl game, but no one will be confusing them with Ohio State or Michigan State anytime soon. It's when they play a non-conference slate like that, and come away 2-2, that they deserve the knock.
Nebraska
What happened in 2013? THey didn't play a game away from Lincoln until October 12th, which was a layup against Purdue in West Lafayette. They had a good chance to be 5-0, but they couldn't capitalize on UCLA sleep-walking through the first half, and had their own 2nd half meltdown, allowing the Bruins to escape the Heartland with a 41-21 win. They would lose their second road contest, a 34-23 game at Minnesota, which would have been more of a black eye, if the Gophers didn't have the great season (by their standards) that they had. No shame in losing to Michigan State, even at home, but beign humiliated in their regular season finale, at home against Iowa, is a different story altogether. Many, perhaps including Bo Pellini, were surprised that Pellini was permitted to coach another game for Big Red, but he answered the call with TaxSlayer.com Gator Bowl win over Georgia.
The Big Ten is terrible, because…everyone was a little too proud that the Big Ten achieved victory against an SEC school's taxi squad in Jacksonville on New Year's Day. Nebraska has proven to be very average in the Big Ten, in its first three years since defecting from the Big 12.
That's wrong, because…Nebraska hadn't been anything special in the Big 12 for many years either. If anything, the immediate success of Missouri and Texas A&M in the Southeastern Conference might suggest that the SEC is more sizzle than substance.c
Iowa
What happened in 2013? Something had to give with Northern Illinois, who had suffered some heart-breaking losses to the Hawkeyes, both at Soldier Field and Kinnick Stadium, and it finally did in this year's opener in Iowa City. After that, the Hawks had a very respectable season; losing to the consensus Top 3 teams in the Big Ten, Ohio State, Michigan State, and Wisconsin. They also made the mistake of scheduling the 2013 chapter of Michigan State for their Homecoming, but who saw them coming? They suffered an unfortunate setback in the Outback Bowl, a game they were very much in, when they lost their starting quarterback and ended up losing the game 21-14.
The Big Ten is terrible, because…Iowa is its 4th best team. Iowa can only be viewed in one way to support the narrative; they lost to a MAC school that was clobbered in back-to-back games by Bowling Green and Utah State. It's no wonder they couldn't handle the SEC in a bowl game.
That's wrong, because…expectations were relatively tapered for the 2013 season. Weisman for Heisman was fun to say, but not realistic. I'm sure they would have rather not lost to Northern Illinois, but the way that game was sold, you'd have almost thought Iowa was the underdog in their season opener, and not the other way around.
Wisconsin
What happened in 2013? Forget the 93-0 combined scores of the Badgers' first two games at home against Who and Who Tech, because BYU and Arizona State make for a decent out of conference lineup. Of course, in traveling to Pac-12 country, Gary Andersen's team had to deal with Pac-12 officials. They played the Sun Devils pretty evenly in Tempe, but most certainly had 18 seconds taken away from them, 18 seconds that may have afforded them the opportunity to win, but instead they lost. A few weeks later, they lost Ohio State, in a game they were expected to lose. Then, they blew everyone out, except BYU, until Penn State shocked them at home to close out the season. They ran into a very tough South Carolina team in Orlando on New Year's Day, and dropped a game where they lost their starting quarterback.
https://www.youtube.com/watch?v=JQmNYPOgx40
The Big Ten is terrible, because…Wisconsin didn't even play Michigan State. Their best win was either at Iowa or at Minnesota, and this is the third best team in the Big Ten. That's a hand down assessment, isn't it? Would you really argue with anyone that said this 2013 Badger team was on the same level as the previous two, who lost Rose Bowls?
That's wrong, because…while I think Michigan State would have beaten them, I think they showed that they could hold their own against South Carolina. And while there are no trophies given for moral victories, if you can hang with Urban Meyer's and Steve Spurrier's teams, you could probably hang with every team in the country that didn't make it to a BCS game. So, this isn't a ringing endorsement, but how many nice things can you say about a team with these expectations losing to Penn State on Senior Day?
Ohio State
What happened in 2013? Well, the same thing happened with Ohio State in 2013 that happened in 2012; the Buckeyes went 12-0, only this time they were burdened with post-season games. Once again, nobody was blown away by the Buckeyes schedule, both in and out of conference; as it turns out, they got Central Florida a year too soon and the team with the most curb appeal, Cal, in the worst possible year ever. As it turned out, Buffalo and San Diego State both played in a bowl game, the same bowl game, but nobody cares about that. Nobody would have cared about them beating Iowa, Wisconsin, and Penn State, and nobody would have cared if they played Nebraska and Minnesota, but since they did not see the Cornhuskers or Golden Gophers, I'm sure someone made a big deal about that. What everyone will remember is the last 3 games, the near-miss in Ann Arbor, and the neutral site whiffs in Indianapolis and Miami, to the Rose Bowl and Orange Bowl Champions. Most overrated 24-0 team ever, right?
The Big Ten is terrible, because…TATTOOS, MAURICE CLARETT, RAFFLES AT YOUNGSTOWN STATE! Honestly though, it helps the cause if they regroup from the 34-24 loss in the conference championship and finish against Clemson in a showcase game like the Orange Bowl. If they were the only thing the Big Ten had going for itself, it would be a very sad state of affairs, sadder than it already is. That's wrong, because…digging up Tressel era scandals is dumb, and how dare we disrespect Michigan State and Clemson in such ways to suggest the Buckeyes are terrible! Michigan State over Stanford in Pasadena helps their cause; as does Clemson over Georgia in Death Valley, but is there a signature win from any of Ohio State's other 12 opponents, perhaps one they actually defeated, that gives them a case here?
Michigan State
What happened in 2013? It took Michigan State a few weeks to hit their stride offensively, what to do without Le'veon Bell in the backfield, and they lost a sluggish contest to Notre Dame, 17-13 in South Bend. They figured out the formula was Jeremy Langford running with a slightly different design to the offense, and they never lost again, like ever. However, it wasn't until November, after holding Michigan to 6 points, that the intimidating Spartans' D was anything more than a cool story. Personally, I started talking myself into this team beating Ohio State, something that ended up happening. After taking down the Buckeyes, I was convinced they could take down Stanford, my pre-season pick to be the National Champ. They did that too.
The Big Ten is terrible, because…they lost to Notre Dame! Stanford lost to Utah! Ohio State lost to Clemson! Nothing they did means anything; the Rose Bowl trophy, the Big Ten Championship, it all meant nothing! I mean, didn't Purdue play Notre Dame close? Didn't Notre Dame lost to Pitt? And, what the hell was up with Max Bullough?
That's wrong, because…they won without Bullough, against one of the better rushing teams in the country. Even if Stanford lost to Utah, they won what everyone seems to believe is the second-best conference in the country. Even if Ohio State had their quirks, and we admit that they did, they weren't a bad team for losing to the Spartans and Clemson. In a playoff, they'd have had a crack at Auburn or Florida State, but I'm not going to speculate on the results of the unknown in that case. If you think Michigan State stunk, you don't have an open mind about things.