It was only a matter of time.  I like discussing the trending topics, and I like food.
I am almost ashamed to admit it, but I've been drawn into the conversation, just about every time that it's come up.  Is a hot dog a sandwich?
The short answer from my point of view is that it's not.  I feel you can take that tubesteak meat, slice it long-ways and place the pieces diagonally across a slice of white bread, put your mustard, relish, cucumber, and sauerkraut or whatever, put another slice of white on top and call it a sandwich.  However, the traditional hot dog, regardless of toppings, the one that comes in a bun, that's just a hot dog.
The non-sandwich designation isn't exclusive to the frank.  Frankly, it's more about the bread and whether it's one unit that holds it together or two.  Really, it doesn't matter what you put in that bun; it's not going to be sandwich, whether it's a brat, a Polish, or an Oscar Meyer weiner.  The more compelling question starts with the hamburger, because if you replace the hamburger patty with fish or fowl, it's quite blatantly a sandwich.  And, if you take that burger patty, and put it between two slices of rye or sourdough with melted cheese, you have yourself a patty melt, which is absolutely a sandwich.
We're scratching the surface here; what about wraps, pitas, tacos, and certain deserts?  Let's get your weekend started with the legitimacy of things around the world of sports.
Connor McDavid, the Ham & Cheese
For selfish reasons, I was devastated by the news of the #1 overall pick in last summer's draft sustaining a significant injury.  McDavid's Edmonton Oilers visit my hometown Arizona Coyotes next Thursday, and yours truly acquired tickets for the affair.  Now, I'm just watching an early-season tilt between two sub-par teams in the Western Conference.  There's no question about the sandwich status of chopped ham and American Cheese, it's just been a while since I've had it and it will be a while before we see The Next Big Thing on the ice in the NHL.  "What have you done for me lately?" doesn't apply to McDavid's situation…yet.
Chicago Bulls, the Gyro
Just because the Greek man in the apron behind the bar, the one that makes a tzatziki sauce that is to die for, calls it a sandwich, it is not a sandwich, not by my standards.  Look, I understand lazy Americans don't often think of all the applications of that gyro meat and assume that shaved cone of lamb meat is going to come in a pita, and usually with fries on the side, but there's more to the menu at your typical Mediterranean grill.  In the same way, when we say "whoever comes out of the East", we mean the Cleveland Cavaliers.  Yes, we saw what happened on Opening Night at the United Center, but think about how far down the list you'd have to go to get to gyro when someone asks what kind of sandwich the should get.  Now replace "gyro" with "2015-16 Bulls" and "sandwich" with "Eastern Conference favorites".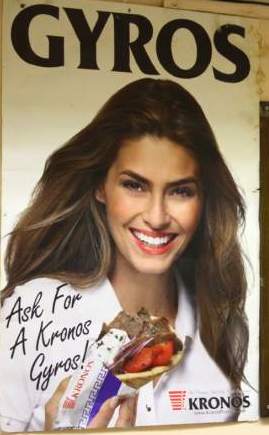 Carolina Panthers, the Pulled Pork
In the same way that the Vinegar-based barbecue of the Carolina region gets overlooked in favor of its Kansas City or Texas counterpart, there's not a lot of respect going around for "Riverboat Ron" Rivera, Cam Newton, and the Carolina Panthers, but they're as legitimate as anything going in the NFL right now.  Sean McDermott has Luke Kuechly on the defensive side of the ball, but that unit is as impressive as anything I've seen east of the Rockies.  Yes, that offense misses Kelvin Benjamin like dry ribs miss sauce, but there's no questioning how Newton is the smoke that makes the meat taste so good.  Whether it's shoulder or butt, this is undeniably a sandwich, and the #1 overall pick in the 2011 NFL Draft is undeniably a solid MVP candidate this season.
Big 12 Football, the Footlong Hot Dog
A hot dog is not a sandwich, and a winning team that doesn't play passable defense in Division I College Football is not a juggernaut.  Did you just win a game 70-53?  Well, I'm a lot less impressed by the 70 than I am disgusted by the 53.  If Texas Tech is giving you hard time, while you wait for your offense to get back on the field, it's fair to say that LSU and Stanford are going unequivocally ruin your day.  Bigger is not always better, and no non-sandwich becomes a sandwich when you make it bigger.  C'mon people!
Kristaps Porzingis and Carmelo Anthony, the Club and the Big Mac
I haven't seen a lot of the Knicks, but I've seen enough of Melo over the years to understand his popularity, though I question the hype behind his game.  The guy is a great scorer, and I enjoy watching his bad team play in more Games of the Week than they deserve, but I wouldn't want to do it 82 times a year, in the same way I don't need to eat a Big Mac a couple times a week.  He doesn't pass or think about his team, like most of us don't think about the extra bun Mickey D's puts on their signature menu item, but the extra bun still somehow matters.  The club, with turkey and bacon, is a little more complete, a little better for you, and actually a sandwich.  You wouldn't order either on a date, but you could make a lot more arguments for the extra bread on the club, like it was a 7'3″ stretch-five with legitimate perimeter ability.  You wouldn't fries with that, but a side of pasta salad seems fitting if Phil Jackson can find it for him the Big Apple.
New England Patriots, the Steak Sandwich
It's messy and you can't get it everywhere, but I honestly can't think of a better sandwich.  I've had this opinion for a long time, and while there's been a crappy skirt steak that doesn't get the job done, every now and again, it's certainly a go-to.  It takes the right amount of fire1Bill Belichick and the right amount of seasoning2Tom Brady, even if you don't put it between the greatest pieces of bread, but that just makes for a good steak.  The weapons the Patriots currently have in Dion Lewis, Rob Gronkowski, Julian Edelman, and Danny Amendola seem to be the perfect starch to accompany an always reliable protein.  You can argue how ultimately unhealthy New England is for the league in the long-term, but it's enjoyable to watch them play football in the moment.
Kansas City Royals, the Ice Cream Sandwich
What if there was a guy that legitimately drove a windowless white van and took random kids wherever they wanted to go, perhaps satiating their sweet tooth for the ride?  This could only happen in a world where the parents would trust this guy, sight unseen, to have their child's well being in mind the whole time and not allow them to overindulge on the sweets.  Of course, the assumption is that world doesn't exist, so nothing like that could happen, even if the guy driving the van is named Ned Yost.  In today's world of Major League Baseball, you need the long ball and the dominant starting pitching; stealing bases and small-ball, in general, is just a way to get a late-inning run when you need it.  That's not supposed to be how you win World Championships.
And the sandwiches, don't forget the flippin' sandwiches; it's supposed to be bread, not fried chicken3We didn't include the KFC Double Down here, but we'd go with the Chicago Blackhawks.  Sure, get fat and happy now, but remember you're going to spend some time paying for it or cookies4If we were including Oreos, I'd go with the Houston Astros, a JV version of what the Royals have done. that sandwiches the meat together for clean eating with your hands.  Don't tell that to Ned Yost, who could be the most notorious man driving the ice cream truck since Big Perm, I mean Big Worm.
The Royals broke all the rules.  You're supposed to have meat and/or vegetables, or something from a jar?  Cheese is the only acceptable dairy?  Well, here's some ice cream, so the lactose intolerant5New York Mets need not apply!  In a very "Life is short, eat dessert first" kind of way, the Royals decided that starting pitching an early-inning offense would supplement their bullpen and late-inning heroics.
You don't think you want that, but you need that in your life.  That's why these sandwiches are kept in freezers by the cash register, because you don't plan to buy them, but your impulses entice you to do so.  And you don't care that it's just crappy cookies and ice cream, it's the sandwich you wanted the entire time.
| | | |
| --- | --- | --- |
| 1. | ↑ | Bill Belichick |
| 2. | ↑ | Tom Brady |
| 3. | ↑ | We didn't include the KFC Double Down here, but we'd go with the Chicago Blackhawks.  Sure, get fat and happy now, but remember you're going to spend some time paying for it |
| 4. | ↑ | If we were including Oreos, I'd go with the Houston Astros, a JV version of what the Royals have done. |
| 5. | ↑ | New York Mets |