"One man's junk is another man's treasure." Everyone has heard this phrase or experienced it in life. You see something at a thrift store, clearance pile, garage sale or even from the literal trash and think, " I can use that."
The sports version of this is the favorite of fans. When a player from a small school, NBDL, the end of another team's bench or Europe rises up fans flock. See Linsanity. What about the coaching version of this? Why don't we celebrate this? Why no Stottsmania or Whittsanity? I feel this is a good time to celebrate one coach rising out of the coaching rubble to lead a new team despite doubt and questions from the outside. This one's for you Stan Van Gundy.
A very brief history. Stan Van Gundy came into the NBA through the Miami Heat system. Pat Riley was president and hired SVG in 2003 to run a team that featured a rookie sensation from Marquette…Dwyane Wade. A team Pat stepped away from abruptly. The next year Pat Riley wanted to win another title and relieved Stan of his duties after taking the Heat to the Eastern Conference second round and adding Shaq in the offseason.
Two years later the Orlando Magic hired Stan to lead their team or more importantly their star player Dwight Howard. His teams experienced great success with 5 playoff appearances and one Finals appearance in 5 years. Despite the success Stan was fired amidst rumors that Dwight Howard wanted a different coach leading the team. We know Dwight didn't stay, the Magic have been terrible ever since and Stan stepped into the background.
Then the Pistons came calling in 2014. They needed a coach to lead and a President of Basketball of Operations to get the team back on track. They hired Van Gundy for both. This is his opportunity to lead a team without a President waiting to take over, a star player putting a power play on ownership or another factor getting in the way of what SVG does best…coach. The roster moves Stan Van Gundy pulled off this offseason seem to be working. Josh Smith, Greg Monroe, Rodney Stuckey and Will Bynum lowlight the players gone and Andre Drummond, Reggie Jackson, Kentavious Caldwell-Pope, Marcus Morris and Ersan Ilyasova are the building blocks of the new Motown Pistons.
This team seems to represent all Stan Van Gundy has been working for since his Miami days. A big man working the post and 4 shooters ready around him. Andre Drummond is a true star in the making. A team that can win in the regular season with Reggie Jackson shooting and penetrating, but can slow it down and pound it inside when the playoffs come around. This season and this team also show Stan's patience and silence prove his decisions and attitudes correct. Shaq could have been the most dominating player in NBA history IF he had put the work in off the court. The work Van Gundy would have pushed and Shaq would have pushed back to the point that Van Gundy was pushed out. Dwight, just like his idol, did not like Van Gundy's pushing and also pushed Stan out.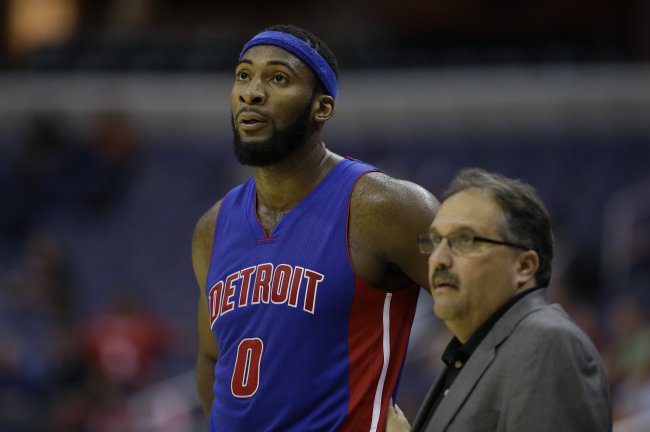 Now Stan is the only one pushing. He is the judge, juror and executioner of the Pistons roster and philosophies. This feels like a moment most would respond with a middle finger, a nasty letter or a big, fat "I told you so" for the two franchises that previously scorned you. Stan just stands on the sidelines with his golf shirt, sport coat and arms crossed…coaching a team he can be proud of. He is just doing what he has wanted to do since 2003.