Um, no. Though, I do think Spaceballs comes with a cast of more likable characters, the hysteria behind the Star Wars franchise holds water.
What is it that they say? Mockery is the most sincere form of flattery, or something like that. To spoof something, there has to be something worthy spoofing, and Star Wars has it. When you're not comparing or contrasting it against its source material, something you should not be doing anyways, Spaceballs holds up very well on its own as a comedy.
To prepare for my viewing of The Force Awakens, I, like many others, decided to get a refresher on the George Lucas franchise, going with an unconventional, yet logical order of viewing. It's called Machete Order, and you start with 4 & 5, the first in order of theatrical release. That tells the story of Luke Skywalker, then you revert back to 2 & 3 to see his father's story, without the concern of spoiling the reveal in Episode 5, since you've already watched it. You skip the Phantom Menace altogether, as it's really unnecessary to the saga, and watch Luke and Anakin Skywalker's stories come together in Return of the Jedi. It worked for me, and got me to thinking how complex the sci-fi trilogies are versus the simplicity of the spoof. Imagine how difficult it would be to create the prequel backstories for Vespa, Lonestar1Bill Pullman had to mock the Han Solo and Luke Skywalker characters as one role., and Yogurt. Would there have been a time that Yogurt aided the Mogs at war, and had a previous relationship with Barf, a la Yoda and Chewbacca? How was Helmet beckoned to the dark side of the Shwartz? Were Alderaan and Druidia similar places for princesses to grow up? Who knows? Who cares?
While we're on the subject of immitation, what's up with the NFL going with the Oregon model, when it comes to outfitting these professional organizations? Did you see what the Rams and Bucs were rocking for the final installment of the Color Rush games this season? I don't mind a little color-on-color, in the wake of black & white televisions going the way of the dodo, but drowning us in monochrome is not a good application of games without white jerseys. On the field and in the stands, I began to feel the pain of those old scabs being peeled off, remembering that the Rams victory on Thursday night might very well be the last NFL game ever played in St. Louis. If it was, can the diehard Rams fans in Missouri somehow be pleased with what two decades of a team from Southern California brought them?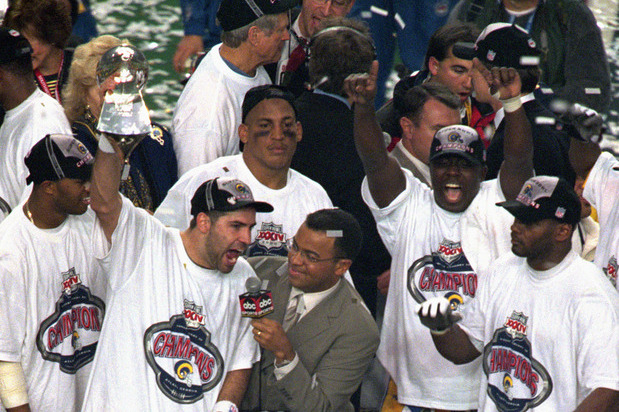 They got Kurt Warner, Marshall Faulk, two Super Bowl appearances, and one title; not bad for twenty years of existence in the Gateway City. Lions, Bills, Jaguars, and Carolina fans would gladly take that. The Browns, on the other hand, would take the perpetual 7-9 run that you get from Jeff Fisher, and they would be glad to have it. That begs the question2Okay, it doesn't beg anything, but it gave me an opportunity to transition., are the expansion Browns the Spaceballs to their original counterparts (the Browns that existed from 1946-1995)?
For those of you familiar with the new Browns, you'd probably liken the new chapter of Browns to some really low budget porn tie-in or a Lifetime original that cuts too many corners in production. You know how it goes, not funny or good, but for some reason, people tune in. This weekend, Cleveland visits the NFL's answer to the Death Star, as it exists in the form of Century Link field. The Seahawks organization yields its own darkside characters; the once-wholesome Russ Wilson draws some parallels with Anakin/Vader, while Pete Carroll represents Big Poppa Palpatine, and you can find the Colonel Sanders and Major Asshole types on the Sea Chickens defense. How many assholes are on that team anyways?
The problem with the comparison is that the Browns lack heroes, even accidental ones like Han Solo or Lonestar. That's not to put down the valiant efforts we've seen, but as Episode III reminds us, even the greats like Yoda fail from time to time, and sometimes there's just no hope3No hope, until A New Hope comes along anyways. Perhaps, the 2016 NFL Draft will provide that hope.. Meanwhile, Browns fans are willing to die on that hill, screaming about how Tim Couch, Brady Quinn, and/or Johnny Manziel was supposed to be the chosen one. In reality, the years of 5-11 seasons and no light at the end of the tunnel gives off that vibe of the love of our lives walking away and being left to burn in molten lava by the only friend we've ever had.
Maybe I've got that all wrong, and it's Art Modell that left us all for dead, deeming us unworthy as fans of his team. We needed a Sith like Al Lerner or Jimmy Haslam to give us a new beginning, but despite having the Deathstar destroyed twice and the Emperor being betrayed by his established #2, the Republic had a better run than any Browns fan born after 1983. That story of murder, mayhem, betrayal, and redemption are a little heavy for a Friday morning. That's where it's nice to instead live in a world of using strawberry to "jam" a signal, Jedi-type weapons coming from Cracker Jack boxes, and Mr. Coffee being conveniently located next to Mr. Radar. At least we can laugh about our owner looking like a giant penis. You have to laugh.That's the only option to get through a life that has you stuck in purgatory.
The only changes we know are when they go from "Suck" to "Blow".