There are actually ten teams in the Big XII, and we're just going to have to get over it.
To think this conference almost died three years ago would have been a crying shame.  They've given us some pretty good football since Larry Scott almost gutted the meat and potatoes of this league to go the Cali-forny Way in a potential 16-team Pacific Coast super-conference, and it's had very little to do with that school in Austin.  Well, they didn't need the University of Texas to hold their own on the field, but it took the ridiculousness that is ESPN's partnership with the school to keep 19 year-old conference glued together for this long.
That's all in the past, though it doesn't mean that they've been unaffected by conference expansion in Big XII country.  Four of its charter members have sought greener pastures, while only two have been replaced.  Only Colorado, one of Scott's six targets (the others were Texas, Texas A&M, Texas Tech, Oklahoma, and Oklahoma State) made the jump to the old Pac-10, but Texas A&M and Missouri joined the Southeastern Conference, while Nebraska found a new home in the Big 10…which now has 12 teams.  Again, get over it.
In 2011, Oklahoma State had a clear path to a national championship appearance until a missed field goal on a Friday night in Ames, Iowa knocked them off course.  The next year, with A&M and Mizzu off to the SEC, West Virginia and Texas Christian (TCU) were the new kids on the block.  The new guys found that they actually would have to be in Kansas every now and again, and found themselves towards the basement of their new digs.  Speaking of Kansas, Kansas State to be specific, the school in Manhattan, Kansas had their sights set on a National Championship berth, but a night in Waco, Texas suggested that it was not to be for the Wildcats.
That brings us to 2013, and a new dawn in the Big XII.  Were we really thinking Baylor, two years removed from Robert Griffin III and a year removed from Nick Florence, could win this conference?  Hell, when the chips began to fall, we were actually thinking the final BCS National Championship might actually pit the Baylor Bears in the 16-year series final game, while a traditional favorite like Ohio State would be left out.  That was all in theory and on paper, after all the games were played, the guess-work was easy, if not non-existent.
However, the 2013 story of this conference runs much deeper than getting a team to Pasadena.  You could throw away the chalk.  This particular season could have served as a thesis for, "that's why they play the games."
Any Given Saturday
Iowa State, Kansas, West Virginia, and TCU were all denied the opportunity to go bowling, unless they were renting shoes at the local Brunswick house.  None of them won more than two conference games on a nine-game schedule, and even with the benefit of an FCS opponent on each of their schedules, these four schools couldn't eclipse the four-win mark on the year.  In Iowa State's case, the FCS opponent wasn't a given; the Panthers of Northern Iowa defeated the Cyclones in Ames by a count of 28-20.  Even West Virginia trailed William & Mary by 10 at the half, before a second-half comeback.  But, you didn't want to commit yourself to yard-work when these teams were in action; they had some fight in them, and yes, that even includes the hapless Kansas Jayhawks.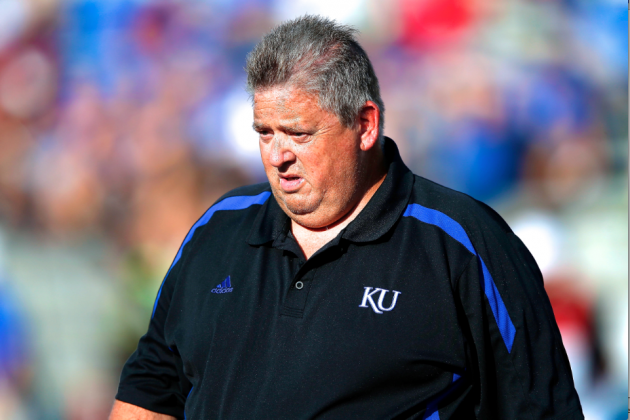 Charlie Weis, the place you start most arguments against hiring off the Bill Belichick Coaching Tree, had only one win in his first season in Lawrence, against South Dakota from the FCS ranks, so naturally Kansas invited another team from South Dakota in 2013, South Dakota State this time.  Weis was able to double his win total from 2012 with a 13-10 win over Louisiana Tech, a team that finished 4-8 in the mighty Conference USA.
Weis had his Any Given Saturday on November 16th, while playing host to West Virginia and NFL running back prospect Charles Sims.  It was a day for Sims to dominate, just not for Charles, who was held to 99 yards, while James Sims ran for 211 yards and 3 touchdowns in a 31-19 win to snap a 27-game Big XII losing streak for Kansas.  The fans stormed the field and tore down goal posts in the lone bright spot for the Jayhawks in Big XII play.  In their other eight conference games, all losses, they were outscored by an average of 39-12.
Iowa State did not start well; there was the aforementioned loss to Northern Iowa, followed by a rivalry loss to another in-state rival, Iowa, before finally getting in the win column at Tulsa in Week 3.   One might make an argument for the Cyclones showing in a 31-30 loss, a game Texas won with a Case McCoy touchdown run and Anthony Fera's subsequent extra point with 51 seconds left, on October 3rd as Iowa State's big surprise of the year.  However, a lot of people might have expected Texas to go down on this Thursday night at Jack Trice Stadium, given how low everyone's opinion of them was at that point; not to mention, I'm not getting into Any Given Thursday in this space.
If you want to polish a turd, go ahead, but that loss was the beginning of an 0-7 conference record; even Kansas had a win with a victory over West Virginia the week before these titans would clash in Ames on November 23rd.  For Kansas, a 34-0 was essentially par for the course; for Iowa State, this was a big win, but not quite their "Any Given Saturday" moment.
With neither team going bowling, with balls weighing less than 14 pounds anyway, Iowa State's finale in Morgantown was a game played purely for pride.  In what is surely a far cry from the old Backyard Brawl they used to play with Pittsburgh in the Big East, as far as finales go, West Virginia gave the home crowd plenty to be proud about early, and looked to be finishing the season on a good note after a 76-yard Charles Sims touchdown run put them up 31-7 early in the 2nd quarter.
Obviously, we're still talking about the Cyclones, so you probably know where this is going.  It's going towards great moments in hook-up history, featuring Grant Rohach and Quenton Bundrage.  On the ensuing drive, Rohach, whose 54-yard 1st quarter touchdown run represented Iowa State's only points of the day to that point, found Bundrage for a 10-yard scoring strike that narrowed the gap to 31-14 before the half.  After a scoreless third quarter, the teams traded touchdowns early in the game's final frame.  The Cyclones found themselves down 17 once again when Rohach and Bundrage connected again, this time for 62 yards and the score, making it 38-28 in favor of the Mountaineers.  Then, it was time for Rohach to move on from Bundrage, who finished with 7 grabs for 93 yards to go along with his touchdown receptions.
With a minute left in regulation, Rohach, who finished the day with 331 yards with his arm, hit Justin Coleman to tie the game at 38, prolonging the 2013 season for both of these teams for at least one more possession apiece.  They did nothing but trade field goals for two consecutive overtime periods, but Iowa State wasted no time the third time around.
On the first play of Triple Overtime, Rohach hit Coleman, who had five catches for 91 yards, for the touchdown, then made the required two-point conversion attempt to go up 52-44.  West Virginia quarterback Clint Trickett nearly equaled what his Iowa State counterpart did, but Charles Sims was pushed out of bounds at 3 in the "home half" of the third OT.  Despite having four tries, nor Trickett or Sims could find the end zone, and the game ended when Daikiel Shorts was pushed out of bounds at the 3 after a reception.  That was the end of the season for both squads; one elated, the other devastated.
Hold on, if West Virginia stunk so much, and they did finish 4-8, what's so signature about those wins for Weis and Rhodes?  I guess goes back to late September, when the Mountaineers hosted a man with a gaggle of players well under the age of 40 from Stillwater, Oklahoma.  A win over Mississippi State, UT-San Antonio, and Lamar had earned the Cowboys the #11 spot in the polls, but no poll wanted any part of Dana Holgorsen's team that was thumped 37-0 by Maryland in Baltimore a week earlier.
Clint Trickett would be West Virginia's third quarterback in five games, but Trickett was no stranger to the clipboard after transferring from Florida State, where he was EJ Manuel's understudy.  So, he hadn't played since mop-up duty in October 2011.  He completed less than 50% of his passes and was intercepted twice versus one touchdown, but it was all about the West Virginia defense slowing down JW Walsh, Oklahoma State's dynamic quarterback.
Walsh did have three touchdowns in the game, but the visiting team trailed 24-14 at the half, and his scoring strike to Josh Seaton closed the gap to 24-21, but that would conclude the scoring for the Cowboys in their first Big XII contest of the season.  A pair of Josh Lambert field goals, the second coming inside of the two-minute mark made it a two possession game, giving Holgorsen his only signature victory of the season.
Finding a signature win of any sort for TCU, a team that has struggled in their three years away from The Little Sisters of the Poor (the Mountain West Conference), was difficult, if not impossible, in 2013.   Their four victories came against Southeastern Louisiana, Southern Methodist, and the aforementioned dregs of the Big XII; at least West Virginia knocked off a big boy on the national scene, adding value to anyone who took them down.
TCU took the Titans of Appalachia to OT at home, but West Virginia pulled out a 30-27 win on the road.  I think they deserve more credit for giving Baylor all they could handle in a game Baylor had to have to keep themselves alive for a conference championship.  They still lost 41-38.  However, this was not a season without some mitigating circumstances for Gary Patterson's Horned Frogs.  After missing the 2012 season to personal problems, quarterback Casey Pachall was sidelined for five games with a broken arm in 2013, forcing Patterson to play some depth chart musical chairs with athlete Trevone Boykin assuming the duties.
If it's Brown…
As I've mentioned, time starts and stop with what's going on in Austin, Texas.  I don't want to take anything away from the heroics of Vince Young, financial statements notwithstanding, or even Colt McCoy, but I don't know when the expectations for the Longhorns reached the level of some mythical place where Mack Brown isn't allowed to lose any games, like ever.  So, 5-7 isn't where you're supposed to be if you're Texas; when that happened in 2010, it was the Longhorns' first losing season since 1997, but they've lived in that 8-9 win range ever since.
This season, after poor showings against Ole Miss and BYU, angry mobs carried torches through the streets of Austin demanding Brown's head on a platter—okay, not really, but they wanted him out.  I suppose that's fair, but I'm not sure what part of that entitled them to the services of Nick Saban.  I know that all it would take for some people is a two or three Brinks trucks backing up to their front door, but Saban has money.  And right now, he has the University of Alabama football program under his charge; somehow, I believe that's more priceless than all of the brisket in Texas.
The way things were made out to be after a 3-2 start, it was as if Mack Brown were somehow sabotaging the program.  Nobody gave him a chance in the Red River Shootout at the Cotton Bowl against Big Game Bob and his Sooners, but I guess this is why they play the games.  It was, in fact, Oklahoma that stood no chance at the Texas State Fair's Main Event.  Aided by a good start that got them out to a 20-3 lead in the second quarter, Texas simply looked like the better team than #12 Oklahoma on this day.
Case McCoy was efficient, despite throwing a 4th quarter pick-six, which brought the Sooners back to within two possessions at 36-20, a score that held up until the final gun.  He did need to do anything special with the way his backs were running the ball; Jonathan Gray and Malcolm Brown each eclipsed the century mark in rushing yards.  While Brown was starting to find answers, questions were being raised up in Norman.  Blake Bell struggled mightily, and the Sooners offense converted just 2-of-13 third downs.
They'd go on to win six straight Big XII games in all, the sixth being 47-40 overtime thriller at West Virginia, before dropping three of their last four games, in what turned out to be Brown's final season in Austin.  They did this, despite getting a new athletic director in-season and having to avoid the writing on the wall about their head coach's fate.  Sure, there's nothing good about a 1-3 finish, but do consider the 3 came at the hands of #10 Oklahoma State, #9 Baylor, and #12 Oregon.  In the end, it was Charlie Strong from Louisville, and not Saban, who was brought in to prove that Texas is indeed too good for 4 and 5 loss seasons.
By the way, Texas finished the regular season in Waco, with a chance to win a conference title.  Art Briles and the Baylor Bears weren't about to let that happen in the swan song for Floyd Casey Stadium, but after all of the scrutiny, Brown brought home a 7-2 conference record, and had his team in a "win and you're in" (the Fiesta Bowl) scenario.
Snyder of Manhattan
Every time I'm out in Goodyear, Arizona, the spring home of the Cleveland Indians and Cincinnati Reds, I'm teased by the Synder of Hanover building.  And, it's not that I so much that I have a problem with pretzels as I'm reminded that I'm time zones away from Snyder of Berlin and those delicious barbeque chips that answered many a snack cravings as a child.  Okay, where was I going?  That's right; it's Bill Snyder and the 2013 Kansas State Wildcats.
While they're talking about doing better than Mack Brown at Texas, someday Kansas State is going to have to do something other than Bill Snyder with their football program.  Snyder is 74, and has served as the Wildcats head coach for 22 years, albeit non-consecutive years.  If the next guy doesn't work out for them, I'm not sure another un-retirement is in the cards, but who's talking about retirement?
A year removed from a Fiesta Bowl appearance, an occurrence that's become more regular than it ought to be for the school in the Little Apple, the Wildcats had a rough start out of the gate, losing to an FCS school.  Never you mind the small fact that North Dakota State won the Division I Playoff, the FCS stigma still remains.  After that, they did drop four games, only to the league's Top 4 teams, but they returned to Arizona and finished on a good note, shellacking Michigan in the Buffalo Wild Wings Bowl (can I still just say BW3?) by a score of 31-14.
Off the Kliff
We knew something would have to give in the Big XII, especially if Texas wasn't as bad as we believed them to be in September.  There just wasn't enough room at the table for everyone, even with A&M long gone, if Baylor was really going to insist on a spot at the adult table.
In a decision that may very well have been based on the availability of grilled cheese on glazed donuts on Tom + Chee, Tommy Tuberville left Lubbock for the potentially greener pastures of Cincinnati, Ohio.  That left Kliff Kingsbury, who played quarterback at Texas Tech only a few years ago, but was more recently credited with the fast development of Johnny Manziel at A&M, to take over a Red Raiders program that's fallen a long way since they dismissed Mike Leach.
They got out to a 7-0 start, which earned them a #10 ranking, but a non-conference slate of SMU, Stephen F Austin, and Texas State probably never instilled fear into the hearts of men.  Now, I never like to say a team got "exposed" because they hit a gauntlet in their schedule; Tech had to play the Top 5 teams in the final Big XII standings in consecutive weeks, and they lost them all.
They went to Oklahoma, hosted Oklahoma State and Kansas State, played a neutral site game with Baylor, and then lost 41-16 in Austin.  There's only score to be read there, but it tells the tale of the entire losing streak; the offense scored no more than 34 points in any game of the losing streak, while the defense allowed no fewer than 38 in any of those games.
They drew Arizona State in the Holiday Bowl, which was an underwhelming draw for the Sun Devils if you ask people who support the Pac-12 runners up, but Texas Tech dismissed all perceptions with a relatively dominating performance.  Davis Webb threw for 403 yards and 4 touchdowns, as the Red Raiders took the Sun Devils behind the woodshed for a good ole fashioned beat down.
What's a Little Bedlam between Two Thursdays?
We know that Oklahoma State didn't play much of a non-conference slate.  Hell, that goes ditto for Oklahoma, though the latter went to South Bend and avenged their 2012 loss to the Irish on the God-forsaken Plains.  It was going to come down to conference play, and both took an early loss.  Somehow, some way, West Virginia took down Mike Gundy's Oklahoma State Cowboys, and we know the story of what happened to Stoops at the Red River Shootout.  That said, each took down a giant, which gave shape to the Big XII title chase, and then un-did that very shape.
Somehow, some way, it was Baylor that became the giant that needed slaying.  On a Thursday night in Waco, Oklahoma showed that they were far from ready for the task.  It was a 41-12 loss that everyone not glued to every snap in the Oregon-Stanford game saw.  I'm not sure that game really set us up for what would go down in Stillwater, when those giants, I mean Bears, would claw their way into T. Boone Pickens Stadium for the Saturday Night Main Event.  What Baylor did, was take all of the goodwill given to them after beating up the team from Norman, and torch it over a couple of hours during a 49-17 loss at Oklahoma State.
When the two met in Stillwater on December 7th, Oklahoma State was playing for the conference title and a bid in the BCS.  A BCS bid was a long shot for the Sooners, but the opportunity to spoil the Cowboys title hopes sat right in front of them.  This was Bedlam, and absent a post-season conference championship game, this would serve as a de facto championship of sorts, and would turn out to be a BCS clinching game for the winner.
The game was tied after the first, second, and third quarter.  It had five lead changes, a punt return, a kicker scoring a touchdown, and it ended with a scoop and score as time ran out, and the Sooners upset the Cowboys in their own house.  They spoiled everything for Oklahoma State, and opened the door for Texas to play Baylor for a Fiesta Bowl berth.  The Cowboys were sent to Arlington to play Big XII expat Missouri in the Cotton Bowl, while the Sooners earned a date with the might Crimson Tide of Alabama in the Sugar Bowl.
A Friday night loss in the House of Jerry rendered Oklahoma State's season forgettable to an extent, which isn't to take anything away from them or Missouri, but it left me to believe they were just a team that upset Baylor, rather than being sold on them actually being the best team in the Big XII.  Oklahoma lost to Texas and Baylor, which left them mathematically ineligible for the conference title in the season finale, but they did enough to be noticed.
It was them, and not 2-loss Oregon from the Pac-12, that filled the final at-large spot in the BCS.  When it comes to believing a team without a conference title as the best, this Alabama team came to mind, weighing the reality of how they lost at Auburn to end their regular season.  No one gave Oklahoma a chance, except for maybe Bob Stoops and his young men.
However, when they took the field in New Orleans on that Thursday night, they showed that they were not only capable, but that Trevor Knight and company might have even been a downright better team that AJ McCarron and the Tide.  The nail in the coffin was similar to the finish at Bedlam, a scoop and score.  Final score: Oklahoma 45 Alabama 31.
Ida Gone To Baylor
So, the story goes like this, as my friend Miko would tell it.  Now, I haven't seen Miko in a number of years, but this will stay with me forever.  He was an Oklahoma guy, an alumni, and he recalls a cowboy telling the Baylor mascot how it is, with a big ole chew in his mouth, in the thickest of thick cowboy accents, he says, "I'd have gone to Baylor, (spits tobacco juices) if they had a football team."  Of course, it comes out like this, "Ida gawnta Bay-Ler, they had a Foot Bawl team!"
It was a good time for the Oklahoma program; in the same breath, it was a good time for Ohio State, the early 2000s.  Shortly after that, I'm pretty sure he moved back to Oklahoma shortly after that.  I've only heard from him once in the years since.  It was the night of October 22, 2005.  The first text read, "Oh shoot, maybe they do have a football team."
I looked at the TV, a side TV because Baylor-Oklahoma was supposed to be a throw-away game.  Baylor quarterback Shawn Bell had thrown a 55-yard touchdown pass to bring the Bears within two.  Bell converted on the 2-point conversion with his legs, which tied the game at 27, and we had overtime in Norman.  Baylor kicked a field goal on their first possession of the bonus period, and it took a 39-yard boot from Garret Hartley to keep the game alive.  The Sooner held on in the second OT, and I got a second text from Miko, the last thing he ever said to me.
"Phew"
That was eight years ago.  Guy Moriss is out, Art Briles is in, and thanks to a 45-38 win over the Sooners in 2011, the Bears are no longer 0-for-forever against Oklahoma.  Art Briles has changed the program; Robert Griffin III obviously deserves some credit for changing the culture there.  They won't accept 2nd-rate facilities or a 2nd-rate program in Waco.  They were contending for the national championship before their trip to Stillwater.
Though they stumbled in Glendale, Arizona on the big stage against an underrated Central Florida team, and it isn't like they stumbled hard or even to a bad team.  They just lost a game they were favored to win, but I wouldn't let the Vegas standard affect how I feel about Baylor.  Their biggest win came in retaining Briles, who easily could have and probably should have been the new man in Austin.  I see nothing but more of the same from this program, one that was left out of the fold when the entire conference was being poached, in favor of Colorado.  I know that it was more about the Denver TV market than anything else, but still, Baylor does more for their conference in 2014 and beyond than I ever see happening for the Pac-12 in Boulder.