Since Tiger Ellison's legendary creation, the Run-and-Shoot Offense, was architected in 1958, it would be a gross understatement to suggest that mere "bits and pieces" of it exist today, even at the highest levels of American football. In this article, I argue that what is currently taking place in Waco, TX is as important to the shaping of football's future as the forward pass did back when it was first tried legally more than 100 years ago.
While it's very true that other spread-no-huddle offenses like the Auburn Tigers, Oregon Ducks, Oklahoma Sooners, etc bear very strong similarities to the Ellison creation, Art Briles has almost literally replicated it, albeit in a slightly altered facsimile out of the shotgun formation.
Briles' roots as an offensive guru stem back to his days as an assistant coach at Sweetwater High School in the Northwest Texas region in the early 1980's. It was there that Briles began to mold himself as a Veer coach, believe it or not. At the age of 28, he was named the head coach at Hamlin High School, where he took this Veer concept, which had been established by Bill Yeoman at the University of Houston nearly a decade earlier, and built a juggernaut. Initially, Hamlin was destined to be a Veer team throughout Briles' tenure, but he had a revelation. As he explained in an interview with SB Nation, "my first year there, we had a great football team, ran the split-back veer, went 13-0-1. In the second year, I saw that if you got deep in the playoffs, you're gonna face people with talent just as good or better than yours. So what I looked for was an edge, something different; so in '85 we went to the one-back, for wides and went 14-1."
That mid-tenure transition would be replicated in his stint at Stephenville. A lot is misunderstood about that/those transition(s), however. To this day, Briles kept to the same principles of the Veer running game. The only difference was that, at Stephenville, his team was running these plays out of the shotgun in spread formations instead of using the quarterback under center with a full house in the backfield. The only real changes made, both at Hamlin and Stephenville, was the frequency and style of the passing game.
With his seemingly newfound love for the forward pass, his mentality shifted dramatically towards the concept of option routes…well at least as they're traditionally understood. To further understand this distinction, one has to bear in mind yet another fact about Briles' offense: there is no playbook. As Briles explained, "a guy's not going to read or study [a playbook]. Kids play video games, so we show them the plays on video. Everything is on an iPad, and we label it and number them. A playbook is something we don't do. I'm a visual learner, and people learn differently. If you can see something, you remember it. If you read it and try to interpret it, it's a little different. We do a lot of repetition on the field so guys can learn it."
Though this does not in and of itself mean Baylor runs option routes in its passing game, this mentality has its effects. They have base plays and constraint plays, to be sure, and they have plays that contradict each other. Any fluid offense possesses these attributes. But when you're a coach and "everything is visual," that means you have to retool as a season progresses. In fact, you have to retool in the middle of games. Hardly anything you do in Week 1 will look exactly that way in Week 12. In the spread, the game is about attacking the weakness of the defense. In addition, it's well understood that a lot of what Baylor does in the passing game has to do with sending at least two, if not three, receivers on deep routes. One would be naïve to believe that even the bulk of those plays, let alone all of them, don't allow for the deep receivers to adjust based on what they see in front of them.
In essence, Briles is running the option nearly every play. The Bears have plays where the quarterback can either check out of a run and throw a screen, check out of a run and throw a quick hitch, drop back and throw to a couple of people who could be in different spots based on what he sees, and they also have the inside mesh concept (commonly referred to as the "zone read" by sportscasters). With the kind of athletes the Bears are recruiting, it's no wonder why they were averaging 60+ points per game for a large part of the 2013 season.
One of the greatest attributes that makes the deep passing game work for Baylor so well is their play action game, which is by far the best ever seen in a college offense. Baylor's play action game is not built like a classic spread team, which is usually just based on a fake quick draw. There are those who believe that the key to selling play action is the quarterback selling the fake hand off. This has its benefits, to be sure, but the real benefit happens before that. It begins with the offensive line moving as if to suggest a run. When play action fails, it's usually because the team in question is faking a draw (i.e. selling the pass already) and the draw hasn't presented itself as a threatening play to the defense. Baylor rarely blocks with standard drop protection on play action. Most likely what they'll do is pull a guard, stretch block, slip a back into the flat, etc. They literally have a play fake off every running play they have, and that's quite an arsenal in itself. Bill Walsh said it best regarding play action when he said "the Play-Pass is the one fundamentally sound football play that does everything possible to contradict the basic principles of defense. I truly believe it is the single best tool available to take advantage of a disciplined defense. By using the play-pass as an integral part of your offense you are trying to take advantage of a defensive team that is very anxious very intense and very fired-up to play football. The play-pass is one of the best ways to cool all of that emotion and intensity down because the object of the play-pass is to get the defensive team to commit to a fake run and then throw behind them. Once you get the defensive team distracted and disoriented, they begin to think about options and, therefore, are susceptible to the running game."
Walsh's framework is perhaps the most fundamental reason Baylor's offense thrives like it does: it has an ethos, but they can adjust the order in which said ethos plays out. If a defense wants to commit to stopping the Bears' running game first with a base defense, they'll get beat over the top. If the opposition wants to play against the pass early in the game, Baylor will run up the middle in a variety of ways. If they want to load the box and/or blitz, they'll get destroyed by the screen and short passing game.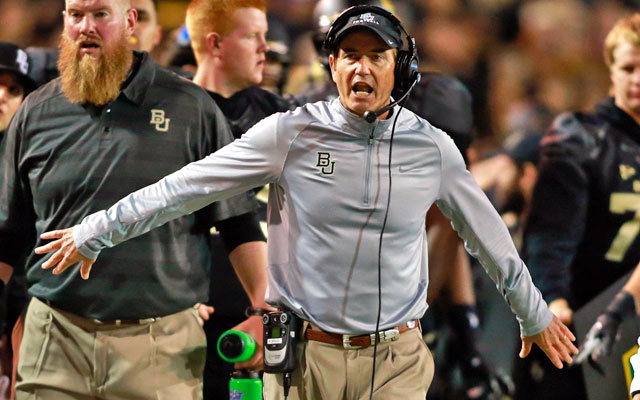 But Walsh uttered these words decades after Tiger Ellison made his much larger mark on the game of offensive football. Ellison said of the play action, and about his offense in general, "we made every pass look like a run and every run look like a pass. Offenses that pass from a pocket split their attack into two phases-their running game and their passing game. The setting up of the quarterback in the pocket screams "Pass" to every defender on the field. Even though pocket-passing teams often fake the ball to a runner before setting up in the pocket, still the fake wards off detection for only a moment, after which all defenders spring into anti-aircraft action. The Run and Shoot offense did not split its attack–it was just one game, running and passing performed anywhere anytime with no distinguishing clue to signal run or pass."
It's for these reasons I argue that Ellison's revolution, which began 55 years ago, is in motion (pun intended) faster than ever and that with the increased implementation of safety rules, various deviations of Ellison and Briles' schemes will be centerpieces of every single football team at every level, as well they should be. In my view, football is not about lining up and pummeling the guy in front of you. Does that help? Yes, but it's not the prime directive. The prime directive is to score more points than the other team. In my view, no one understands this reality better than Art Briles.