We meet again…You are seriously encouraged to reply, respond, post, or just jump for joy! I really would like to know how you feel, and what you think about the latest moves by Browns owner Jimmy Haslam. I mean where on this earth can you get a NBA major firing, and a NFL x2 major firing all in the same city. I will tell you where…ONLY IN CLEVELAND BABY!
Don't take that the wrong way I am not making fun of us. In fact, I am overjoyed, giddy, an elated at this news. I believe that both organizations are trying to achieve some level of "sustainability" when it comes to the "hire-ups" and or front office personnel. There is early speculation as to what led to the release of Banner/Lombardi. From the Chud relationship, and his firing to the non-ability to deliver another coach before Pettine was hired for the job. NFL hearsay relates the message that Banner/Lombardi was not well liked in many circles, and that hindered the Browns process of hiring a new coach as some were warned to stay away from those two. This world of professional sports has a life unto its own , and I fully understand how easy it is to get caught up with all the "goings on"(things that happen). Doesn't some of this seem scripted? It seems unreal and yet it happens before our eyes. I am still wondering how the plot will thicken concerning Mike Brown. Guess I will have to stay tuned in.
Change Is Coming
It does feel different I must admit. It feels like a new beginning is right there for the Browns. The organization actually mobilizing their forces, and resources to achieve a common goal. Generating a philosophy of team first. Growing a winning culture I dare say in a city that has not had one for so long. Farmer, Scheiner, Pettine, and Shanahan this is the new regime.
Farmer brings the football entity to Cleveland that has not been represented at all. The Browns have chased big names…fail. The Browns have gone down the road less traveled…another fail. This time I think they got it right. A football guy for football players. A very astute evaluator of talent. Someone doing whats best for the organization and team. Scheiner has been perceived  in a positive light, and I figure his hand is more to the business side of running things, you know "the numbers man". Pettine being inherently from the defensive side of the ball appears to be hard-nosed and straight forward, another admirable quality that has not been in Cleveland. With the addition of Kyle Shananhan as the OC it does seem as if the backbone has snapped into place. The only qualm that could go on here is the GM and head coach not being on the same page. As in Pettine might not be Farmers' guy. My fingers and toes are crossed that everybody will work accordingly to bring the Browns to where they need to be. Contract negotiations and re-signings are the first order of business. Then the important factor of "getting-it-right" placed on this years' draft.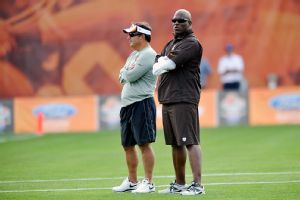 There appears to be something amiss with the Cleveland Cavaliers. I can't quite put a finger on it, but something seems different. I actually saw a beautifully designed play by (ugh) Mike Brown during the Wizards game that didn't lead to points, but rather serve the purpose it was supposed too. Towards the of the game with the Cavs allowing the Wiz back into the game. Mike Brown called time out with about 6-8 seconds on the clock and drew up a play of "keep away' which had me laughing as the Wizards chased our players around until the clock almost expired. A couple free throws later equaled a win for the home team. In the game against Memphis the team shot and shared the ball well, eventually notching another win. I bring those points up to emphasize that the Cavs can more than compete with the other teams. I don't know what the exact problem or problems were that led to the constant falling down and sliding backwards, but I do know these guys can play. As the trade deadline approaches there are a few possibilities that might have to be looked into?
Does a move of Luol Deng hurt now, but help the future?
Does Jeff Green have meaning to the Cavaliers?
Can David Griffin make any moves or deals?
Chime in let me know. Help me out. Or just speak your mind.