Idle hands are the devil's play-pen, right? I wonder how the devil feels about too much time alone with one's thoughts. It's during that time that I start theorizing about going to college, putting aside things like educational value and the social aspect, and wondering which institution would have offered the best four-year experience for the sports fan. This is a thought process that works much better with the advantage of hindsight in my back pocket.
Each July, we get the better part of a week that lacks any sporting event of real consequence. Sure, the Home Run Derby demonstrates might, because chicks dig the long ball. The actual All-Star game despicably determines home-field advantage for the World Series, but even thought I'm a big baseball fan, I find myself less inclined to watch it each year. In fact, I skipped the Mid-Summer Classic this year. A day later, I skipped the ESPY's, the awards show for sport, which I'm thinking we don't need, but allows ESPN to fill the void with their own program taking center stage. I checked in on Twitter long enough to see that enough people excitedly tune in, or at least settle for the annual extravaganza. My theory is that in sports, unlike other aspects of entertainment, the games themselves determine the winners and losers, so you really don't need an academy or committee to determine who deserves the trophies.
https://www.youtube.com/watch?v=DzMnCOG-C1o#t=470
More so than the nominees and winners, the host seems to be the target of the hoopla, year in and year out. None of them are exactly in the ballpark of Billy Crystal at the Oscar's, but Norm McDonald had the epic joke about Charles Woodson's Heisman legacy in 1999 and the rest tend to fall into the Rob Riggle Pantheon of Forgettable Awards Show Hosts. This year, ESPN gave the viewers Drake, the former child actor turned young adult hip-hop artist. The trend seems to be to dislike the guy for a multitude of reasons, but sports fans are quick to point out that the trendy Canadian tends to latch himself to superstars and winners.
For the common man, this is a sports fan sin of the highest order, but if you're able to laugh off the notion that he should be fiercely loyal to the Maple Leafs, Blue Jays, Raptors, and no other teams in all of sports, it's fair to say that Drake is somewhat of a free agent. After spending the better part of my 36 years rooting for the Cleveland teams, I know I don't have that luxury, but that time alone with my thoughts took me back to a "what if" scenario that allows me to be just that, a free agent fan.
In reality, I took my talents to Parris Island and the United States Marine Corps out of high school, a school of hard knocks, rather than a traditional place of higher learning. If I've learned anything about fans, especially younger ones, over the last decade, it's that geography and alma mater don't matter as much as they used to, but when you have those things going for you, it sure justifies your allegiance a lot more. Now, choosing a school based on the games you might attend and the glory you might share with those teams you watch play is foolish, but this was my time alone with my thoughts; I wasn't considering any real word factors, just trying to have the fun that Drake seems to, without constantly transferring to chase National Championships.
Since I would have first set foot on campus in the Fall of 1997, we're only considering what I would have been able to see from the 1997 College Football season thru the conclusion of March Madness in 2001. I'm also only weighing the top two college sports, football and men's basketball; it is tough to say how open-minded I would have been a half a lifetime ago, but I don't see myself with fond memories of volleyball or women's hoops under any circumstances in the present tense. I'm also eliminating baseball as part of the criteria, though a trip to Omaha for the World Series would be on my bucket list, if I had one.
I had to consider the champions in football; Michigan and Nebraska in 1997, Tennessee in '98, Florida State in '99, and Oklahoma in 2000. Remember, this is a parllel world and it doesn't matter that 18 year-old me despised Michigan and all of the Ohioans that chose to attend. I don't quite weigh basketball success evenly, but if you're going to get a decent seat for a big March Madness game, there is no grey area between the student body and the extraordinarily wealthy; the path of least resistance to those premium seats involves enrolling at a school that's going to play in those types of games often.
Oklahoma would have provided a fine conclusion to my final year in 2001, with the upset of Florida State in a sloppy game in Miami to win the Orange Bowl 13-2, which gave them a National Championship. If I consider Oklahoma from a Class of 2001 alumni perspective, there's no questioning fifteen years of Bob Stoops, a few seasons of Adrian Peterson, a victory in each BCS Bowl game, and four appearances in the title game would have me screaming "Boomer Sooner" from the rooftops, but this is strictly about the four years on campus. That would have meant two seasons of John Blake before Stoops turned things around in 1999; the Sooners were 9-14, good enough for fifth place in the Big 12 South both years. sure, a National Championship washes away those scars, but outside of that 2000 season, they'd have given me three losses in the Red River Shootout and an unremarkable trip to Shreveport for an Independence Bowl loss to Mississippi to end 1999 with a 7-5 record. On the hardwood, Oklahoma made the tournament in all four of my college years, but a Sweet 16 loss to Michigan State in 1999 highlighted those years.
I had a friend from elementary school in Cleveland that actually spent those four years in Tallahasse; he sat on the bench with the Seminoles basketball team as a manager. In what would have been our freshmen year, Steve Robinson led them to a #12 seed in the NCAA tournament. A second round knockout at hands of Valparaiso dropped them 18-14 for the 1997-98 season, and it would be the last post-season action the Class of 2001 would witness in their four years on campus.
Of course, Florida State, under the charge of Bobby Bowden was a football school. It would have taken until the 11th game, the rivalry game in Gainesville on November 22nd, before I'd have seen Bowden lose a football game. Aside from the table in the ACC in '97, the 'Noles went to USC and beat the Trojans, slaughtered then-Big East rival Miami at home, and took down Ohio State in the Sugar Bowl. If not for the three-point loss to Florida, Peter Warrick and company presented a great argument over Michigan and Nebraska for the title; it leaves me to wonder how the pre-BCS system would have paired the top teams up for the bowls. In '98, a Week 2 loss at NC State meant they needed help in November to get to Tempe for the inaugural BCS Championship at the Fiesta Bowl, and they got it, so they met Tennessee in the desert.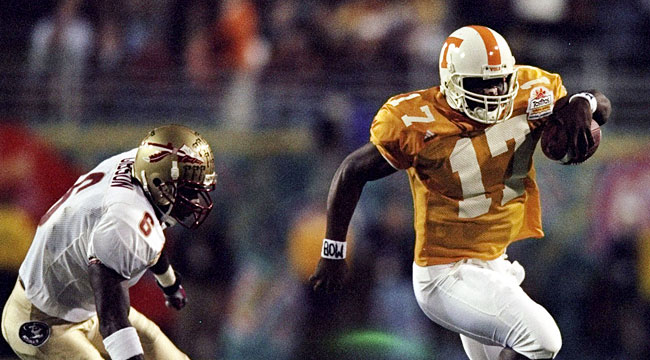 They lost to a great Volunteers team, but bounced back to take down Michael Vick and Virginia Tech in the second BCS title game at the Sugar Bowl. They had to deal with #3 Florida in the swamp first, and came away with a 30-23 win before neutralizing "Beamer Ball" by 17 points in New Orleans. Four years of Bowden Ball ended on a sour note when Heisman Trophy winner Chris Weinke couldn't figure out Bob Stoops defense at the Orange Bowl, but if you do the math, 45 wins and 5 losses with a realistic chance at a title on January 1st in each of those seasons, Florida State was't a bad place to be for that period.
At Tennessee, I'd have gotten Peyton Manning's senior year. Sure, the guy couldn't beat Florida and they'd lose to co-National Champion Nebraska in the Orange Bowl, but the 1997 season set the scene for the '98 season well. With Manning gone, it was up to Tee Martin to take the reigns on offense, doing just enough to let a defense littered with NFL talent win a title. They stormed the field at Rocky Top when the Vols edged the Gators at Neyland in Week 2 and beat four Top 10 teams, including #2 Florida State in the desert for the first BCS Championship. Florida got them in Gainesville the next season, but they took down #10 in consecutive weeks and reached the Fiesta Bowl, where they'd lose to Nebraska. In 2000, they'd suffer their worst season of the four years, going 8-4 with losses to Florida, at LSU, at Georgia, and to Kansas State in the Cotton Bowl. For the travel alone, with bowl games in Miami, Tempe twice, and Dallas, this Ohio-born kid would have loved it. Throw in Peyton Manning and a 43-9 for Phil Fullmer, and Tennessee probably didn't even need the four NCAA tourney appearances in basketball, which included losses to Illinois State, Missouri State, Charlotte, and a Sweet 16 loss to national semi-finalist North Carolina in 2000.
Nebraska and Michigan gave their basketball fans positively nothing in the way of post-season play during the years in question, but it starts with a National Championship where #1 didn't play #2. Both were unbeaten, Michigan wrapping up their season with Heisman winner Woodson in the Rose Bowl over Ryan Leaf and the 11-1 Washington State Cougars, while Nebraska's Scott Frost outplayed Peyton Manning in the Cornhuskers' 42-17 Orange Bowl win over Tennessee. Michigan would go on to defeat rival Ohio State in two of the next three seasons and beat SEC teams from Alabama in January for the next three seasons, Auburn in the 1999 and 2001 Citrus Bowls, and Alabama in a thrilling 2000 Orange Bowl. Meanwhile, Nebraska's bowl travels took them from Miami, for the title, to San Diego, Tempe for a rematch of the 1998 Orange Bowl, and the Alamo Bowl in San Antonio. 1997 was the legendary Tom Osborne's last season coaching the Big Red. Alumni considerations, which again are not a factor, don't treat either school well.
From 2001 to 2013, Michigan has lost in all but two seasons to Ohio State, and when they've been bowl-eligible they haven't fared well; the exception being a forgettable Sugar Bowl win over an even more forgettable Virginia Tech team in 2012. Things don't shape up well for Nebraska either; Frank Solich managed to get them to a National Championship after a stunning 62-36 defeat in Boulder which knocked them out of the Big 12 Championship Game, but not out of the BCS Championship at the Rose Bowl, where Miami kicked their asses. Over the next decade, they showed they didn't belong on the same field with the likes of Big 12 powerhouses Oklahoma and Texas, and went running for the Big Ten in 2011.
Two schools without a title in football or basketball during the alotted time do make a good case for a great fan experience. First, Arizona; they're a basketball school, but the final years of the Dick Tomey Era in football weren't awful. They went from 7-5 with a loss to New Mexico on their home field for the Insight Bowl in 1997 to 12-1 season in '98, the only blemish being a 52-28 home loss to UCLA in a season where the Wildcats handed Washington State their only loss of the year. They would beat Nebraska in the Holiday Bowl, but whiffed considerably in 1999 and 2000, going 11-12 and opening the door for John Mackovic to take over for Tomey in 2001. It would be a while before Lute Olsen and the Arizona basketball program would part ways. They would have a single one-and-done year in the tourney with a 1-point Opening Round loss to Oklahoma in 1999, on the heels of a 12-1 football season, but losses to Utah ('98), Wisconsin ('00), and Duke ('01) on the hardwood should have left Wildcats basketball fans with little to hang their head about. Utah played for the National Championship, Wisconsin reached the Final Four, and the loss to Duke was the National Championship.
Speaking of Wisconsin, I'm not sure where people in Madison rank that Final Four appearance among the great moments in school history. They are, after all, a football school. They made the tournament in three of these four years, but were 0-for-4 against Michigan State in 1999-2000 and were one-and-done to Missouri State and Georgia State in their other tournament cameos. On the football field, with or without this "what if" scenario, Wisconsin serves as one of the ultimate "what if" teams; what if Michigan didn't trip them up in their eventual Rose Bowl winning seasons in '98 and '99 (they also lost to Cincinnati in 1999)? You may not have anything nice to say about and 1998 Outback Bowl loss to Georgia or their Sun Bowl win over UCLA in 2000, but back-to-back Big Ten Championships and Rose Bowl victories don't happen very often. If only I could say I was there for it.
In the end, given the choice and the clairvoiance, Tennessee seems like it would have been the best place to spend the time, even though Drake might have had to change into the Florida and Nebraska track suits at halftime on occasion. While Florida is being mentioned, I can't think of a more choice experience than aligning with the Tebow years in Gainesville; only 2009-2012 Alabama rivals 2006-2010 Florida, but the Gators needed an assist from Billy Donovan, Joakim Noah, and company to lift them to the top.
Where would you spend your college years, strictly from the perspective of a sports fan? Do you think there's a better four years than any mentioned here? Where do you think you'd see the best teams and the most desirable post-season travel itinerary? I'd love your thoughts, either in e-mail (jrich@morethanafan.net) or Twitter (@JRichRadio); let me know what you think.